Hotate, in Japanese it means Scallops, is one of the most famous and expensive shellfish not only in Japanese cuisine but all over the world. Japanese people can serve scallops in many different ways: they can make Hotate sashimi or sushi or with soup. Making Hotate sashimi, for example, is not time consuming at all but the result is very mouth-watering.
Here is a quick guide of how to make a delicious Hotate Sashimi dish:
Preparing Ingredients
All the ingredients you need would be fresh scallops, light soy sauce, wasabi, ginger, lemon fresh herbs, peppers and daikon radish if you like. You can also try to enhance the flavors in Japanese way by adding some mirin, rice vinegar as well as some sesame oil.
Cutting Scallops
The first step would be preparing the scallops. Make sure the scallops are completely dry by wrapping them in absorbent paper and chill them for around 10 minutes. Chilling will make the scallops firmer for cutting.
After that, use a very sharp knife to cut the scallops into 3 slides.
Adding Flavors
Sprinkle your scallops with lemon juice.
Garnish with fresh herbs, peppers and daikon radish up to your liking.
You can also prepare soy sauce or creating an unique sauce of mirin, rice vinegar and sesame oil as well.
Remember that Hotate Sashimi dish need to eat fresh so serve the dish immediately after you finish garnishing.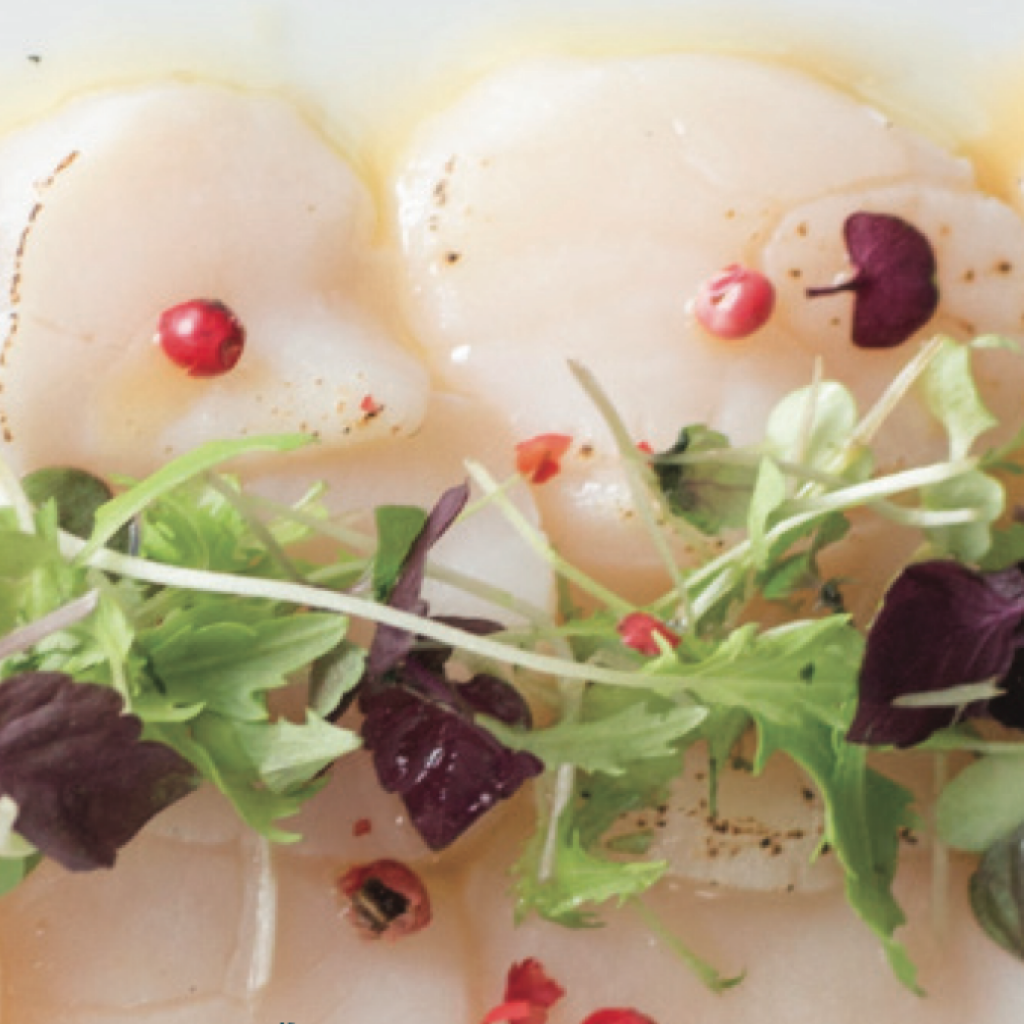 The expected result of a good Hotate Sashimi dish is that you could be able to taste the sweet and creamy taste of the scallops. The scallops are fresh with firm and nicely-cut texture. The scallops are presented nicely against all herbs peppers and radish.
Although very simple, it is still a very elegant dish. Here are some tips to ensure you can serve the best Hotate Sashimi:
Always buy only fresh and safe to eat raw scallops. Fresh scallops are firm and have from creamy white to ivory color. It is best to buy from reputable shops. Opt for dry scallops only, wet scallops are not as fresh and will taste less sweet.
Use a very sharp knife to cut your scallops. Keep your cooking station, your hands and your knife cool to ensure the freshness of the scallops. Put an ice bowls and soak your hands and your knife into it frequently could be a good idea.
A tip to effectively cut your scallops is putting them on the cutting board by theirs sides, not their top or bottom. Do not put down too much pressure onto scallops as well as avoiding sliding back and forth. Try to cut scallops into even slides
Remember about food hygiene as well. Use a clean cutting board and wash your hands and your knife thoroughly
Scallops is well known for theirs sweet and rich flavor and the best way to taste them is to taste them fresh and raw, while they still remain all the natural flavors. That is the reason why you should try to make and eat Hotate Sashimi. It is also a very traditional Japanese cuisine in case you want to have a taste about Japanese fine dining. Follow these simple steps and tips to ensure you have the best Hotate Sashimi dish possible.